Teachers Are Shapers
June 9, 2023
2023-06-09 17:31
Teachers Are Shapers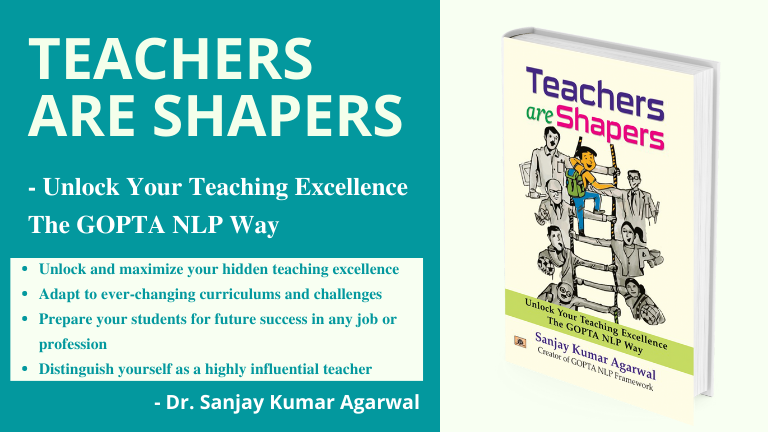 I believe that teaching is the noblest profession of all which gives you the best opportunity of nation building by playing a key role in shaping the future generation of the country i.e. students.
I believe that teachers are shapers. They see the students as the future generation of the country and see themselves as the shapers of this future generation. 
Do YOU also believe so?
Do you also believe that you have even more teaching excellence than you you have unlocked so far?
The Almighty God has given us all equal time and equally capable brains. How we utilize our time towards achieving our goals; and how we develop & utilize our brain, brings the real difference, which makes the difference between highly successful people and mediocre people. 
Understanding the structure of unlocking inner excellence for exponential growth in personal & professional lives is essential so that strengths & excellence are put to their best use; and the areas, which can be bettered can be fine-tuned to maximize the results.  
I have created this unique & proven 20 sessions (90 minutes each) action-packed & brainstorming-rich workshop for YOU where you will discover how to transform your personal & professional lives with the power of GOPTA NLP Framework and how to unlock your teaching excellence and interaction with students.   
Time to Get Rid of These Growth Blockers:-
– Sense of underperforming as compared to your true potential;
– Confusion about the definition of success and lack of clarity about how to achieve huge success;

–

Dreading goal-setting and feeling stuck due to dearth of time.
It's time to stop living a 'compromised life'! Take back charge of your life!
Most teachers live a reactive life and fail to unlock their true teaching excellence by not identifying their goals and by not deciding to work upon those goals and time utilization patterns.
But not ANYMORE!
Join Sanjay Agarwal as he takes you on a transformative journey through his worldwide popular growth model GOPTA NLP Framework to kickstart your journey to achieve your goals.
Join this insightful workshop and delve deep into:
Unlock your teaching excellence with the GOPTA NLP framework 
4 Pillars of Exponential Growth
Rewiring your brain to level up your potential
The secret recipe to skyrocket your productivity in the goal-oriented format
…. And much more
Have you ever wondered?
How to unlock and maximise your teaching excellence hidden within you:

How to cope up with newer challenges each day due to ever-changing curriculums;

 

How to handle the ever-increasing expectations of parents' & students;

How to play your role in shaping the golden future of your students;

How to make the learning experience joyful for your students;

How to unlock and maximise your teaching excellence hidden within you;

How to help your students and prepare them for the day when they will eventually join any job or profession;

 

How to inculcate that killer mindset for your students which prepares them for facing & overcoming day-to-day challenges of life.

 

How to distinguish yourself as a highly influential teacher to stand out among mediocre teachers?
Disclaimer: This is not just another bookish workshop! The outcomes are deep, very deep & transformative.

       
Are you ready to begin this life-changing journey and unlock your inner teaching potential by stepping out of your comfort zone? 
Highlights of this
deep transformative 20 sessions 
are:
Module 1
Module 2
Module 3
Module 4
Module 1
The structure of exponential growth

Understanding the power of GOPTA NLP Framework – The ultimate growth model

Golden strategies of modeling excellence of self & others

Communication Strategies for Better Relationships

In-depth Understanding of Operating Drivers & Filters in Communication

And Much More

 
Module 2
Module 3
Module 4
How Will This Program Accelerate Your Growth?
By the end of this insightful program, you will be equipped with the competence of a highly influential teacher showing the following characteristics:-  
Become outcome focused and do your best to make your students outcome focused.

Become proactive and develop a feedback mechanism to observe in a subtle manner how the students are learning.

 

Become highly flexible in behaviour & communication and become always ready to change your ways if you are not getting the desired response from the students.

 

Become keen observer and use your sensory acuity to notice the subtle sensory responses from the students, whether verbal or non-verbal.

 

Understand that teaching the curriculum is just a little part of the whole process which you have to undergo with the class.

 

Understand the internal representation system (map of the world) of your students and discover how to interact with the generic map of the world of the class as a whole and how to interact with the map of the world of an individual student.

Have empowering & resourceful belief system; 

…. And much more!